Competition is stiff amongst brands and websites looking to rank higher on search engine result pages (SERPs) for optimized keywords. To stay ahead of the curve, you need to review your website's performance regarding SERPs and determine whether your digital marketing efforts are working or not.  Google offers several innovative SEO tools to keep track of your website and mobile apps' activity. One of such tools is the Google Search Console (GSC). You may have heard about it but not paid enough attention to it.  That's why we've created this ultimate guide for you to learn everything about the Google search console and how to add it to your website. Let's jump right into it. 
What Is Google Search Console?
Google Search Console (GSC) is a website service that gives webmasters or website managers a look into how the search engine crawls through and indexes their website. Previously known as Google Webmaster Tools, GSC is loaded with data about how Google views your website.  With the data and insights from the platform, you'd be able to optimize your web pages for organic search and improved rankings on SERPs. You'd also be able to identify which technical portions of your website needs improvement.  The Google search console is recommended to enhance your content and digital marketing efforts. 
What Does Google Search Console Do?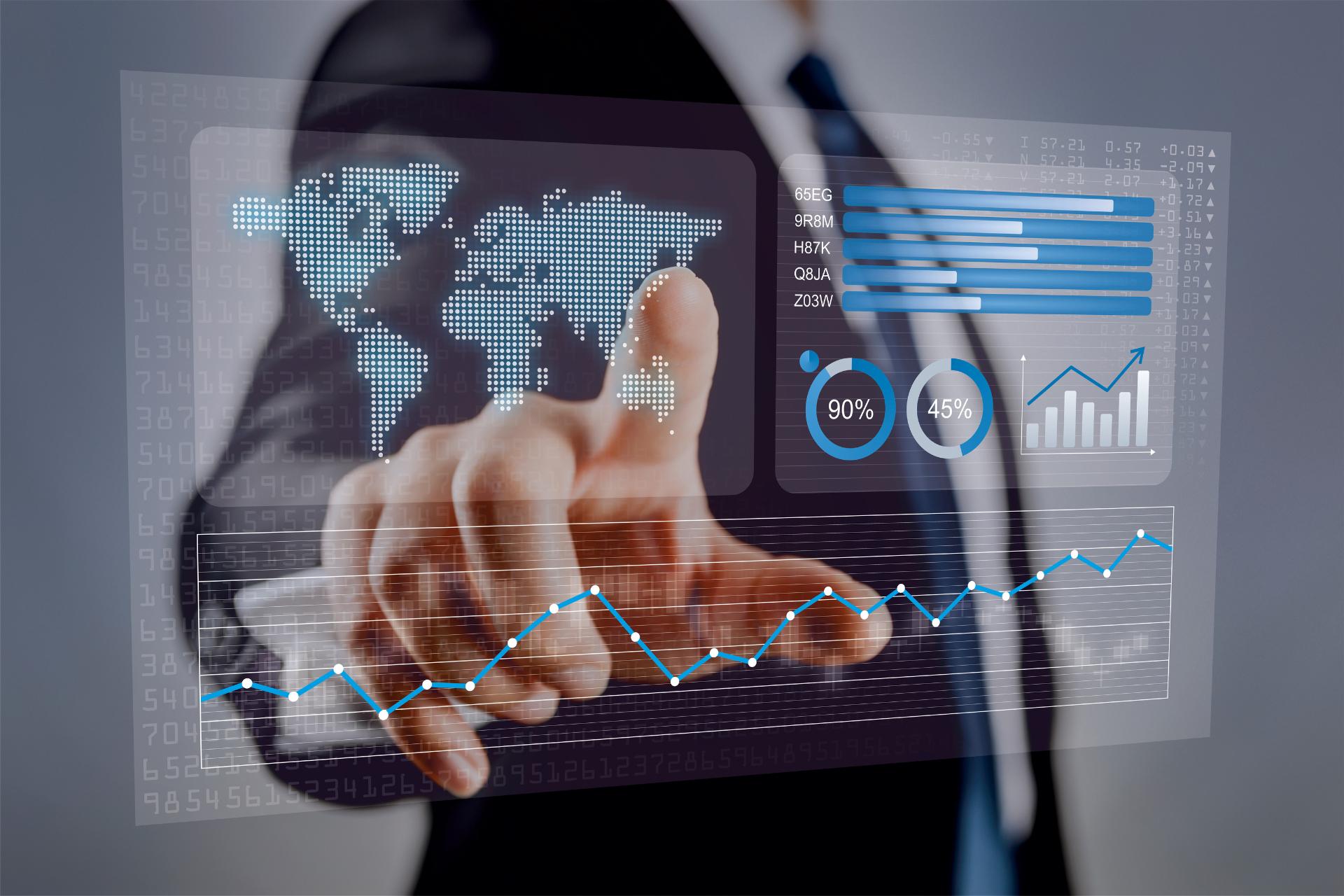 Google search console can perform the following responsibilities: 
Confirm crawl status. One of its usefulness is to validate that the google search engine can crawl through the content of your website. If Google cannot crawl through your website, it will be impossible for it to appear on SERPs.
See how your page ranks. With the tool, you can see how your page ranks where specific keywords are searched by users. You can also see which page is bringing you most of the traffic and how much traffic each page is bringing.
**Ensure your website is mobile-friendly. **GSC tests the mobile compatibility of your website. 
Understand how Google sees your website. GSC provides web traffic, appearance, crawling, and other information.
View queries. You can view the web pages that generate the most traffic to your website. You can optimize your other web pages for excellent organic search with such information. 
Reveal technical errors. You'd be able to see and troubleshoot technical errors affecting your web pages from ranking higher on SERPs. GSC also sends you alerts and notifications regarding issues affecting your website. 
Ascertain your page loading speed. GSC shows you how fast your web pages load on mobile devices and PCs. 
Keep track of your AMPs. GSC also monitors your Accelerated Mobile Pages to check for errors. 
All of these uses will be explored properly in this guide. 
Who Can Benefit From Google Search Console?
No matter who you are, you need GSC to monitor your website performance and get valuable insights on how to rank for specific keywords for your SEO and organic search. Which set of people does the tool benefit? 
Business owners. Whether you have a digital marketing team or run the website, you'd receive all the insights on optimizing your website for search results. 
**Web developers. **Google search console can prompt you with issues during markup that can monitor and resolve accordingly. 
**Bloggers. **If you're a blogger, you can use GSC to view the various rankings of your web pages and discover ways to improve their optimization.
SEO specialists. You'd be able to make informed decisions about how to improve your client's website performance in SERPs and how to improve your content marketing. 
Site administrators. You can use the tool to track and provide solutions to a wide range of website issues, including load errors, page speed errors, server errors, malware, and other technical problems. 
You can achieve a lot with Google Search Console, no matter your job specifications.   
How to Add Your Website to Google Search Console
To take advantage of GSC and its unique features, you must first add your website to the tool. Follow these steps to add your website to GSC. 
1. Log in to Google Search Console
First things first, you need to log into Google Search Console. You need to have a Google account for this to be possible. If you don't have one, you can create one here. You will see this screen after you log into GSC: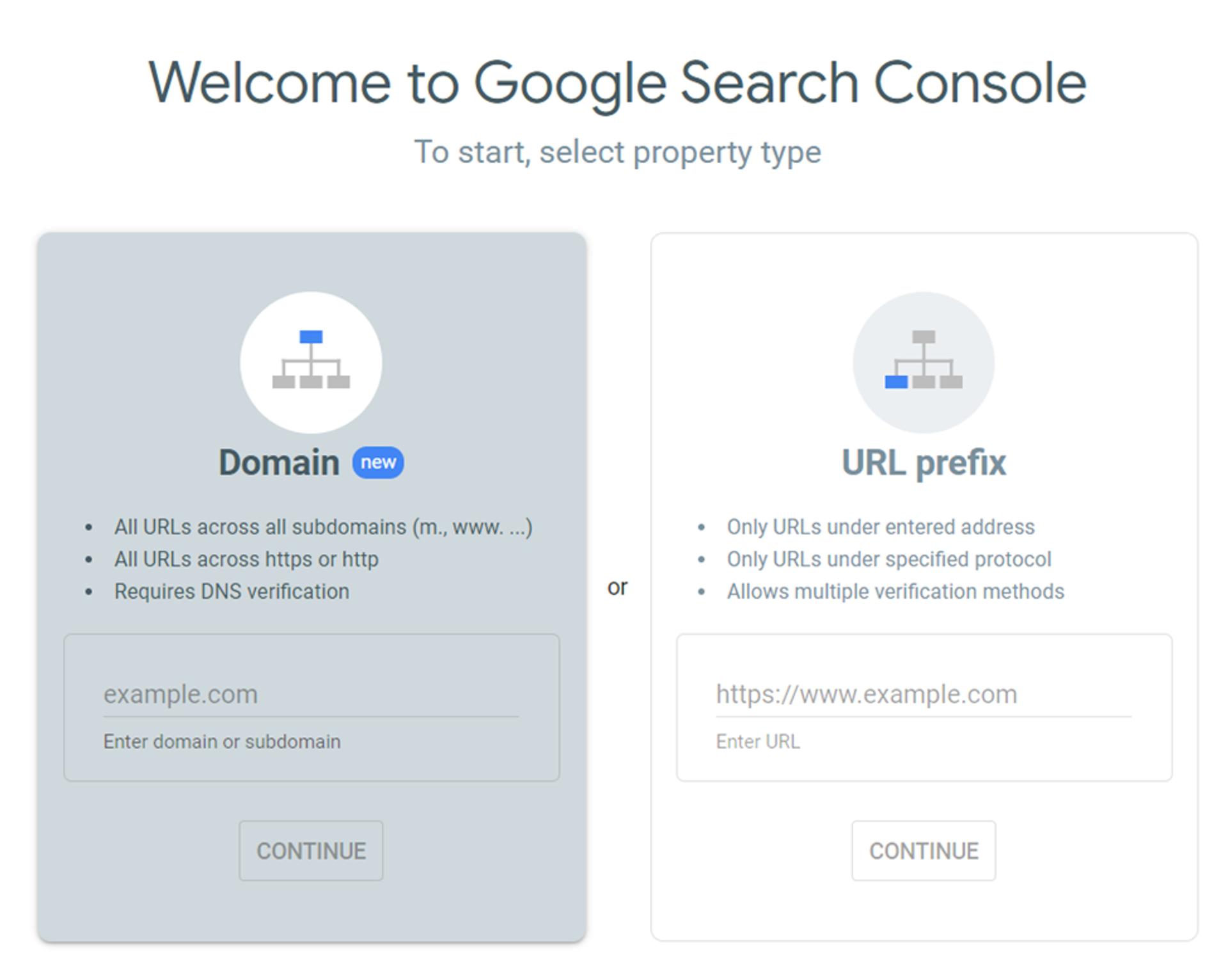 Add the URL of your website and click continue. 
2. Verify Your Domain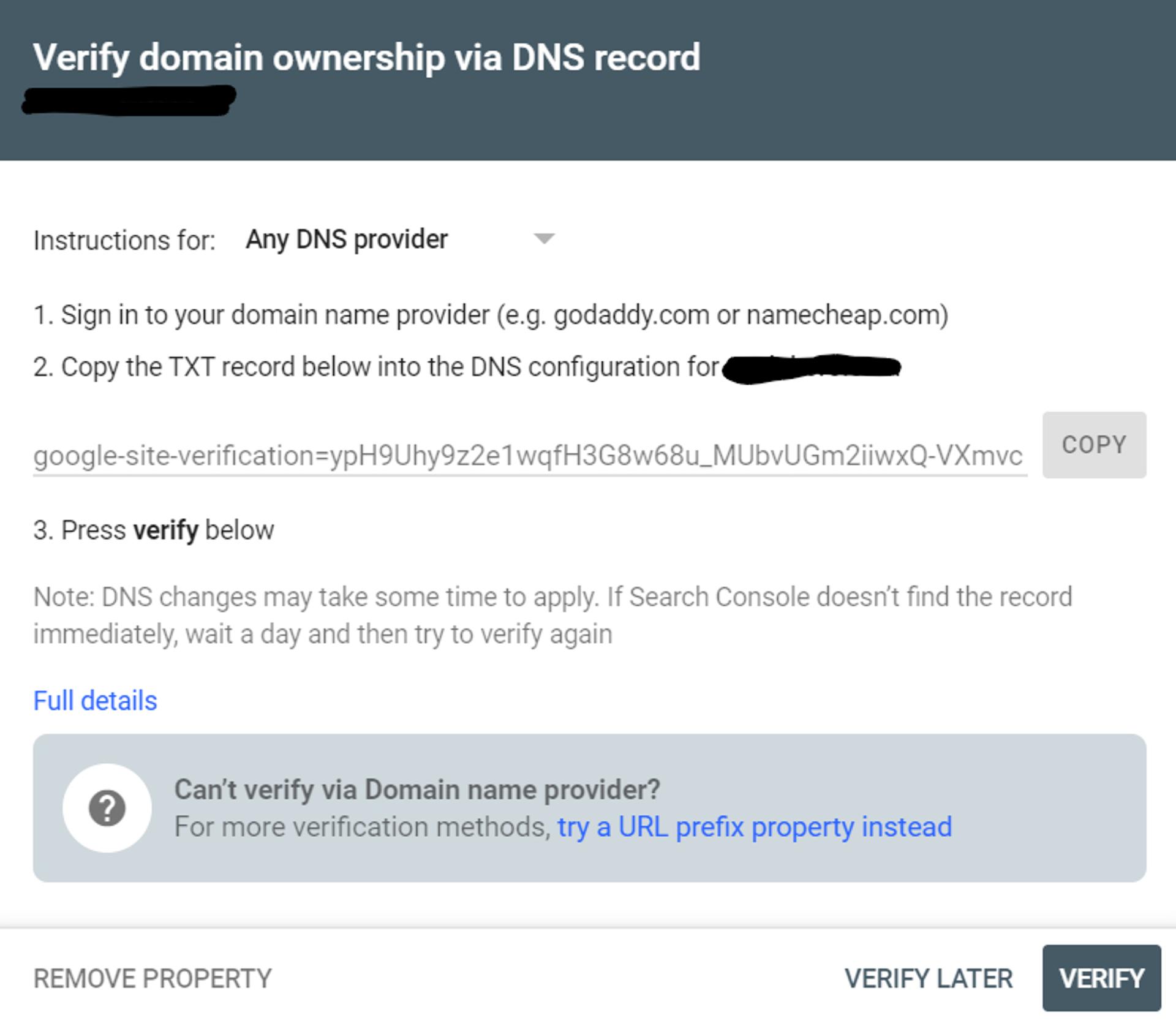 Google needs to authenticate if you're the website owner you wish to monitor. Thus, they will send you a tracking code in TXT format. You will have to sign in to your domain name provider and paste the code into the DNS configuration of your website.  If you have already connected to Google Tag Manager before, you can use Google Tags, another tool to verify the website ownership. Another verification method is the Google Analytics tracking ID if you sign in from there.  If you're a WordPress user, you can input the GSC code using Yoast SEO. All you need to do is copy and paste the code into the Webmaster Tools > Google verification code on the Yoast SEO dashboard. 
3. Submit an XML Sitemap
After verification, you're all set to use Google Search Console for your website. However, it will take a week before you will start receiving data and insights about your website behavior. In the meantime, you can forward an XML sitemap to Google.  An XML sitemap is a special file highlighting all your web pages so that Google can easily locate and index them. It also helps Google to understand what your website is about. If you've got a sitemap, all you need to do is: 
Sign in to GSC
Select your website from the sidebar and click sitemaps. 
Input the sitemap URL. 
If you're using Yoast SEO, sitemaps are automatically created. Visit General > Features > XML Sitemaps and select the circle with the question mark.
Features of Google Search Console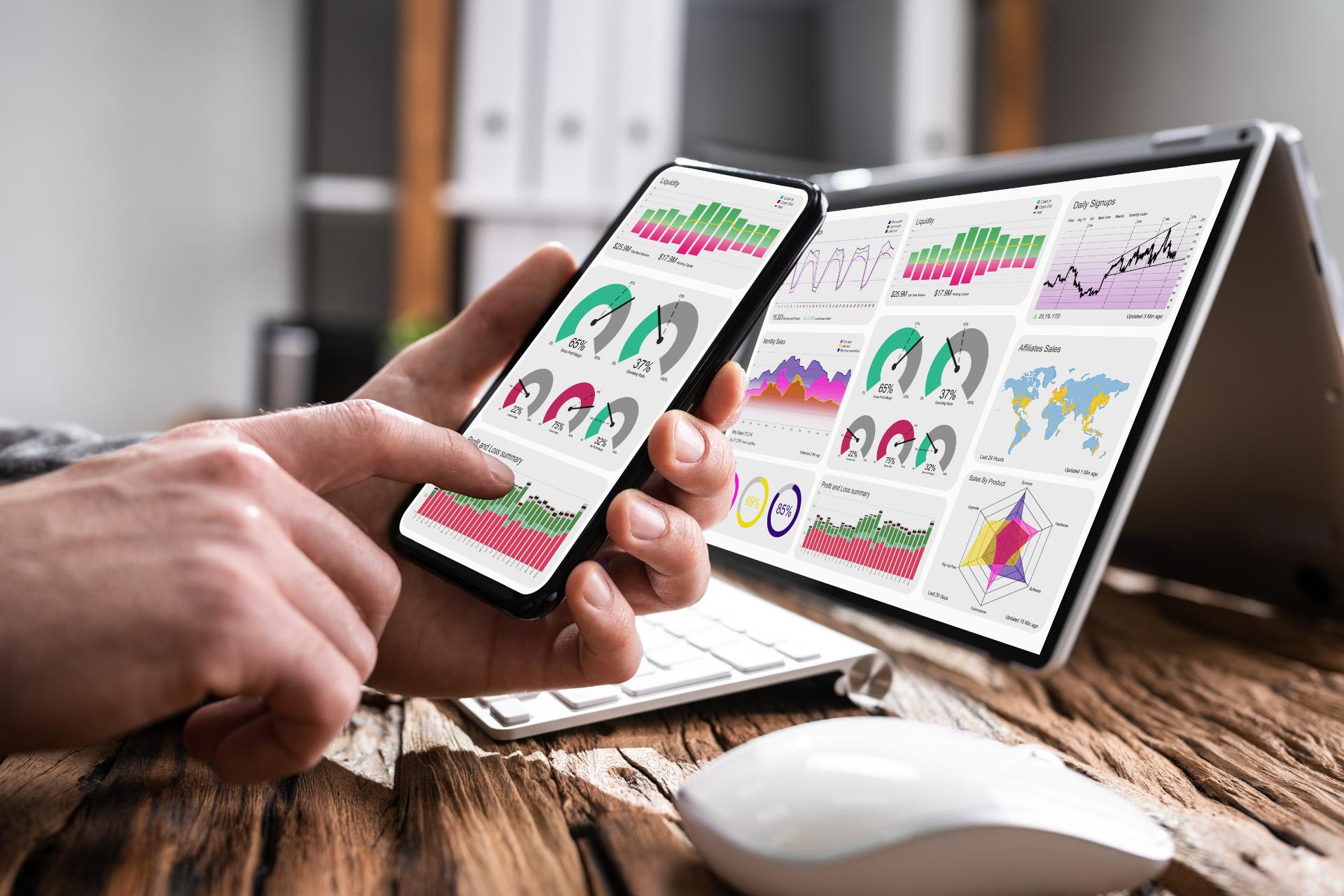 Google search console is loaded with several unique features that we will discuss. These features are essential in monitoring your website's performance for organic search. These features include: 
Performance Tab 
The performance tab notifies you of what keywords and web pages your website ranks for during organic search. The previous version of GSC only allows you to see data for 3 months. However, with the latest version of the tool, you can see the data for up to 16 months.  In the performance tab, you can review what keywords or web pages need a configuration for better results. You can see a list containing queries, pages, countries, devices, search appearance, and dates with their corresponding clicks, impressions, CTR, and positions on search results. We look at those concepts below: 
**Clicks. **This section shows the number of clicks your website has recorded from organic search. This number is important because you can tell if your web pages are receiving regular visitors or not. You can learn from these content marketing tips on how to generate leads for your website. It is essential to check your clicks across the other metrics as well. 
**Impressions. **This section shows how often your web pages appear on search results. For instance, the queries' impression shows how often your website pops up during organic search. Again, you can check the impressions across the other metrics at the performance tab. 
Average CTR. The click-through rate (CTR) reveals the percentage of people who have seen your website in organic search and clicked the URL. For this to be possible, your website needs to be higher in SERPs. Also, you'd need to make your page title and meta description more appealing to users to click the link.
**Average Position. **This figure reveals the average ranking of a specific keyword or web page for a specified period. This figure is subject to change as different users get different results. However, it gives you an insight into the click, average CTR, and impressions you get on particular keywords or web pages.
The performance tab is an important dashboard in GSC that you can track and monitor your website performance for organic searches.
URL Inspection 
The URL inspection dashboard allows you to review and evaluate specific URLs on your website. It compares the page from Google's index with the current page as it runs live to check for differences. You also get technical information, such as how the search engine crawls through the URL. If there are errors in the structure data, GSC will notify you.
Sitemaps
As earlier mentioned, sitemaps are files containing a list of all your website pages and content. Sitemaps allow Google's bots to crawl and index them accordingly. If you have the Yoast SEO plugin installed on your WordPress, you will automatically have a sitemap you can input on the space provided.  If you don't, you can read how to build and submit one here. With the sitemaps tab of GSC, Google knows exactly where your XML sitemap for your website is located. 
Enhancement Tab
The enhancement tab of GSC reveals all the data you need to improve your website's performance. Some of the insights include: 
Speed. This insight examines how fast your web pages load on smartphones and PCs when visitors click on your website URLs. This data is curated from Google's audit tool Lighthouse and Chrome User Experience Report (CrUX). The Page Speed score is ranked from 0 to 100. From the results, 0 to 49 is rated Slow, 50 to 89 is Moderate, and 90 to 100 is Fast. You need to ensure that your website loading speed is fast so that visitors won't be dissatisfied and leave. You can optimize your website for speed by compressing large images, removing unnecessary plugins and website code, lower redirections, speeding up server response time, and enabling visual compression. 
**AMP. **Accelerated Mobile Pages (AMP) stands for super-fast pages for mobile devices. Here, you can check the valid AMPs for your website URLs. You can also see the ones with warnings and errors.  
**Rich Results Enhancement Tab. **This insight reveals all the improvements that could be conducted on your web pages for excellent organic search results. This tab showcases the valid enhancements your website has and the ones with errors or warnings. This tab helps you discover and troubleshoot issues that might affect your website performance during organic searches.
The enhancement tabs show you insights that improve your site in organic searches. 
Mobile Usability
The mobile usability tab on GSC reveals issues concerning mobile usability and experience. Do you want to discover if your website is mobile-friendly or not? The mobile usability tab is the best place to start.  You can discover plugin errors, font sizes, screen compatibility, or if clickable items are too close together. If your website is catering to a global audience, you should check out Polyblog.
Manual Actions
This is the tab you don't want to see any data in. You will see the details here if your website has been flagged by Google. You will also be notified in your email if Google has a manual action against your website.  Some issues that could lead to your website being penalized by Google include spam content, misleading content, cybersecurity issues, or other penalties.
Links 
In the links tab of the Google Search Console, you can discover how many external websites are sharing backlinks to your website. You can also find the external links giving you a backlink, the anchor text, and how many links those external websites contain to your website.  Backlinks are important in SEO rankings and organic searches. When other websites are sharing your links on their web content, Google sees it to mean your site is trustworthy and will rank it above others when specific queries are searched.  The links tab also shows which internal links are getting more mentions on other pages of your website. Interlinking your web pages is just as important as earning backlinks from other websites. 
Security Issues 
The security issues show you if your website or web pages has a security issue. Cyberattacks, viruses, or other technical issues could compromise your site's cybersecurity architecture.  Seeing no data on the tab means your site is in good condition. 
Conclusion
Google Search Console is an incredible tool every website should have. Thankfully, you've learned what it is, what it does, how it works, and how to add your website to enjoy its impressive features.  So, what are you waiting for?