Competition amongst brands and corporate organizations have become rampant. Audiences are once again presented with multiple alternatives to choose from. What distinguishes successful brands from those struggling is their content marketing strategies implemented to attract and retain customers.
One of the best places to do that is with a blog. According to HubSpot, blogging is one of the three major mediums in content marketing. Whether you're blogging to promote a product or service or as a hobby, its relevance cannot be overemphasized.
It comes with several benefits. It can help your target audience understand your offerings and make informed decisions. It is also another surefire way to develop a unique brand voice.
And in a world where ranking in organic searches is important, blogging can help improve your website's SEO (Search Engine Optimization) performance. What's more? Blogging can also improve your trustworthiness and credibility with your target audience.
Now that you know blogging is essential, there's a little problem choosing the best blogging platform for your brand. That's the reason for this article. We've curated an insider secret of the best blogging platforms to consider and what to look out for when choosing one.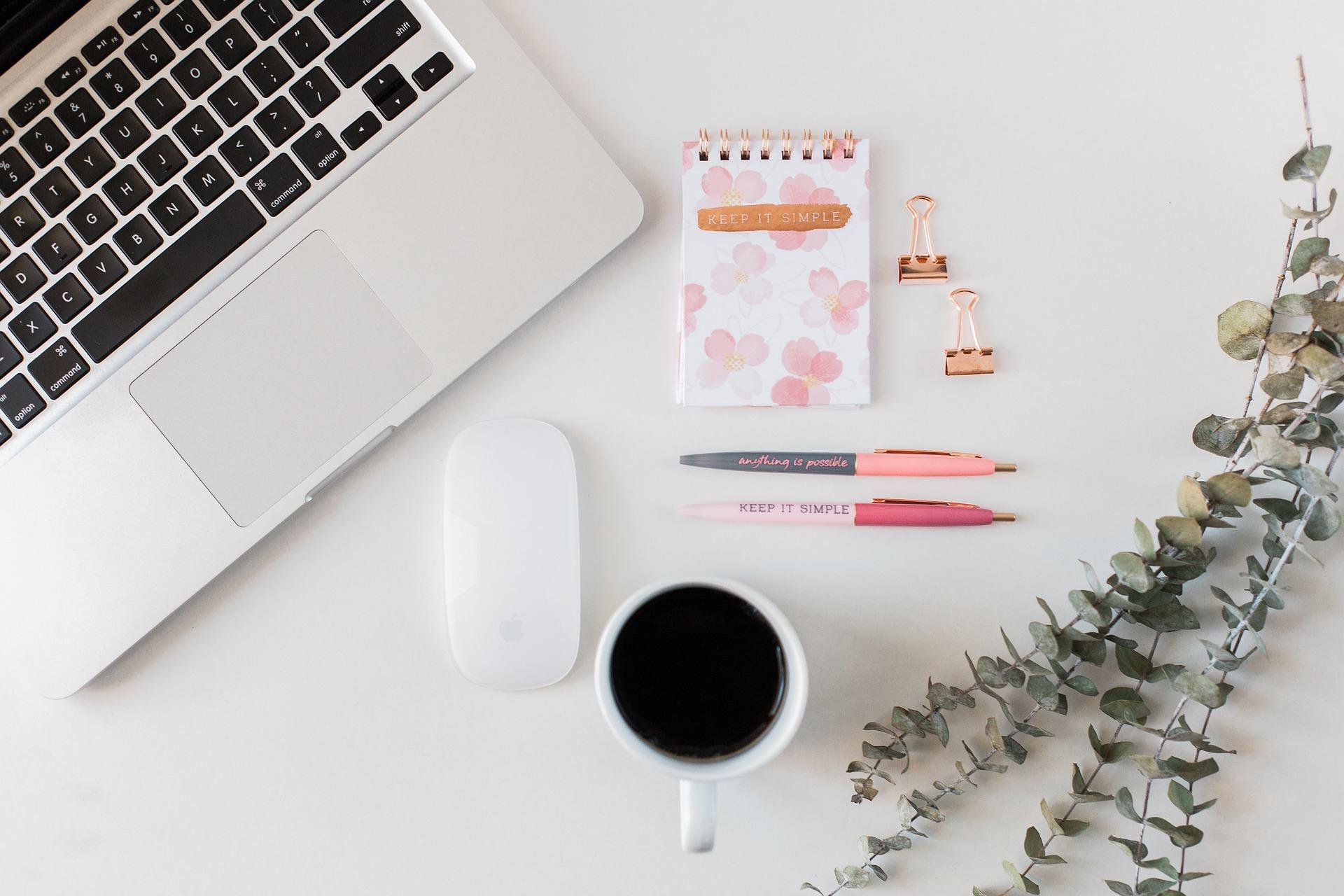 Factors to Look Out For When Choosing A Blogging Platform
Before you select a blogging platform for your business, you need to look at several factors. You need a blogging platform that is commensurate with your brand goals and visions and will seamlessly implement them. You also need to ensure that people understand your product offerings after looking at your blog.
So, what factors will help you choose a blogging platform for your brand? Let's explore them below:
1. Content Editor
One of the key factors you should look out for is that the platform has a content editor. This is the core of blogging. Every blogging platform is supposed to have a robust content editor. However, not all of them have this feature in detail.
You will use the content editor frequently to edit, upload, save, and publish content to your target audience. So, you need to choose a blogging platform with a user-friendly editor.
Features like auto-save can come in handy if you're experiencing power issues or a faulty computer. You won't be worried about rewriting your content if you log into your blogging account.
You also need a drag-and-drop feature that allows you to upload multimedia content without stress.
2. Multi-language Setup
Another essential factor to consider is if the blogging platform has a multi-language feature. With the internet connecting people from all over the world, your business needs a blogging platform people across different tribal lines can understand.
If your preferred blogging platform does not have a multi-language feature, your content marketing will face some difficulties. Your digital marketing efforts will not be wholesome, as you could miss out on brand penetration with several demographics.
Hence, it would help if you looked for a platform that can create a multi-language blog without hitches.
3. Extensions and Integration
A crucial aspect you should also look out for is the extensions and integrations that come with the blogging platform. It gives you ways to customize your blog.
Most CMS has features such as underline, italic, bold, font style and size, and other styling options. But you need much more than that. For eg., you might need extensions that'd make users easily locate different sections of your page.
You might also need customizations that will improve your blog design for users who land on your web page for the first time. Thus, you can look for a platform that allows you to change the look, design, and features of your blog without having to physically code.
Alternatively, you can also choose a blogging platform without many customization options to keep things cleaner and simpler. It ultimately depends on your needs.
4. Ease of Use
If you're learning how to blog for the first time, you need a user-friendly blog. You shouldn't have to spend countless hours or surf the web for answers to some basic features.
First, you need a platform to install and set up without requiring technical skills. You also need to have the ability to handle your blog's backend. This includes uploading, editing, previewing, and publishing content to your target audience.
If you're a novice, intermediate, or advanced blogger, you need a platform with smooth navigation to locate what you need. You should not trade this for anything.
5. Fast Loading Speed
One of the biggest turnoffs for most internet users is a web page that takes a lot of time to load completely. No one wants to experience that and will leave if it doesn't load quickly.
In the long run, this causes increased bounce rates which is a bad SEO sign. A fast-loading page is one of the factors search engines like Google and Bing use to rank websites in organic results.
If your preferred blogging platform has problem loading pages slowly, your digital marketing campaigns will not be as effective as you want them. It's simply because you're experiencing higher bounce rates on your web pages, which sends a bad signal to search engines. You can simply add your website to Google Search Console and monitor your page loading speed.
6. Minimalist Design
Simplicity in website design should be another factor to look out for. The reason isn't far-fetched. When your blog design is 'all over the place', your target audience will have difficulty locating different content and menus.
This often results in higher bounce rates for some websites. Your blog should be styled so users can seamlessly look up different content without stress. Your blog should maintain a minimalist and clear appearance regardless of the themes or plugins you install.
7. Managed Hosting
Having fully managed hosting for your blog cannot be overemphasized. Server interruptions and downtimes happen, but you can rest assured that your server provider manages your servers.
You need a blogging platform that is reliable for your blog. There are some options out there that can take care of hosting completely so it will save you a lot of stress and headache.
8. SEO friendly
One of the objectives of all business owners is to ensure their businesses reach their target customers. One of the ways to achieve that is through organic search. Search engines review their intent when people type in search queries and display relevant results.
Your blog should be properly optimized for it to be displayed. This includes on-page SEO involving meta tag optimization, title optimization, internal linking, and user experience.
It also includes off-page SEO which includes social media signals, backlinks, and many more. Lastly, it includes technical SEO, which looks at mobile usability, responsive design, loading speed, etc.
All of these forms of SEO play into your blog performance in the long run. But it ties into having a blogging platform so these customizations can work seamlessly. That's only when you'd begin to enjoy the benefits of content marketing for your business.
Top Blogging Platforms
Now that we've addressed what to look out for when choosing a blogging platform for your brand, which ones are recommended for you? We address them below:
1. Polyblog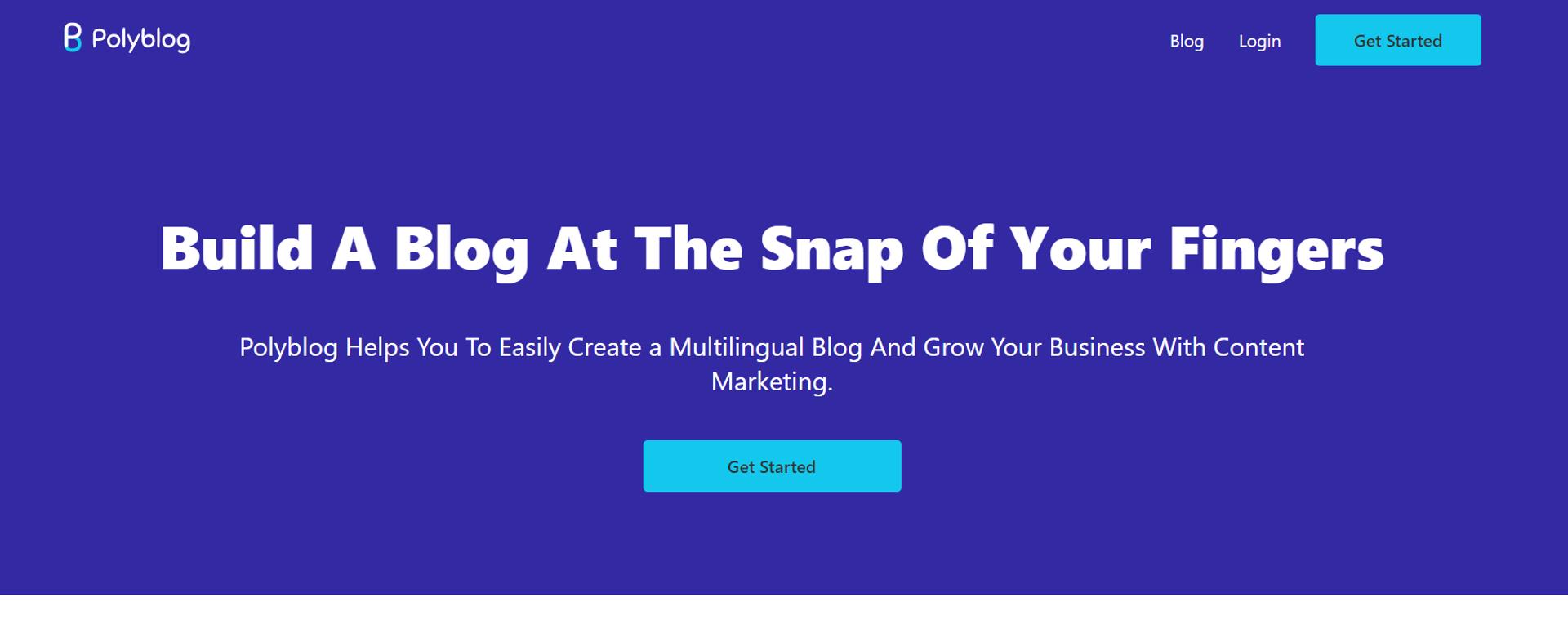 Polyblog.io is an innovative and uber-intuitive platform where you can easily carry out your blogging. It has been specially designed to equip you with all you need to succeed in your content marketing.
Polyblog is created to help brands and individuals improve their unique selling points, increase engagement, and boost brand objectives. But why should you use the platform?
Polyblog is designed to be multilingual. This is excellent for brands looking to attract, capture, and retain a broad audience across borders. International content marketing is a game changer!
(For developers, you can bring in your frameworks like React.js, Next.js, and Remix.js.)
The platform is also SEO optimized, allowing your blog pages to rank for targeted keywords during organic searches. Polyblog also features a minimalist design which allows you to locate different customizations on your content editor. Your audience can also navigate different sections of your blog with ease.
What's more? Polyblog ensures that your blog pages load faster, increasing your website sessions and lowering bounce rates. Whether you're a novice or a professional blogger, you will love using Polyblog for your content marketing. You won't have to worry about server downtimes, as Polyblog guarantees reliable and efficient web hosting for your domain and blog.
2. WordPress

WordPress currently holds the record as the world's most popular content management system. Currently, 35% of web users across the world use it for their website hosting. That's because the platform features free and premium plugins, themes, and customizations.
This allows people with little to no coding experience to successfully set up and launch their respective blogs easily. WordPress is also highly responsive, allowing smartphones and PCs of different screen sizes to access blogs with a perfect display.
WordPress is open-source, meaning its source code can be modified by web developers to suit the website's purpose. That's why numerous plugins and themes are developed to enhance the user interface and experience.
An evident flaw with WordPress is that the platform is prone to cyberattacks. In fact, it is the most attacked CMS in the world, recording 90,000 attacks per minute. You also have to deal with maintenance issues, such as fixing broken links and updating your database and the core software. This may be exhausting for site owners who do not have technical experience.
3. Wix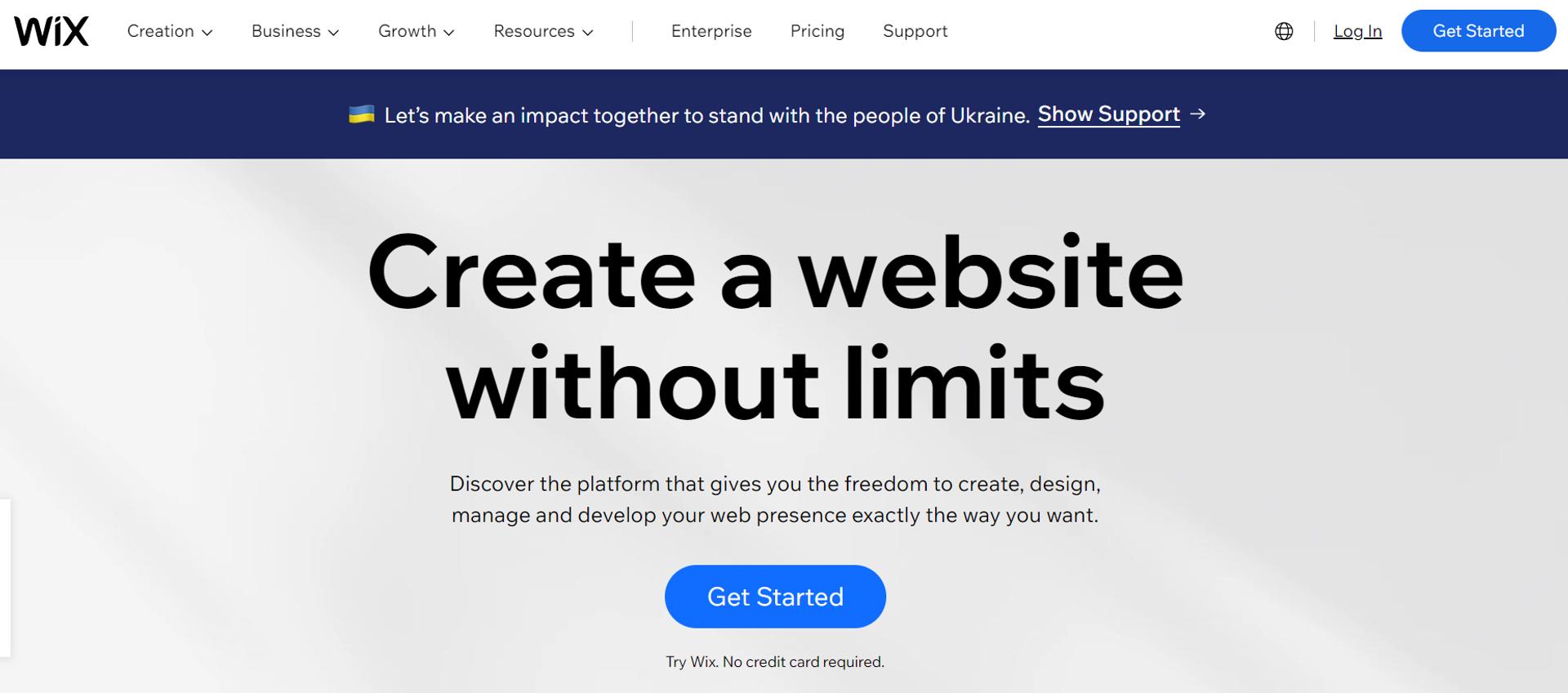 Wix is also another blogging platform you should consider for your blogging needs. It is loaded with over 800 pre-designed templates and plugins that you can use. However, if you have background coding experience, you can build your blog using HTML and CSS within the Wix Editor.
This platform also has built-in Artificial Design Intelligence, which provides you with different blog templates based on a questionnaire created for you.
Whatever you opt for, you can begin writing, editing, and uploading your blog content to your audience. Wix has a stock photo and video section to select multimedia options for your articles. You can also customize your SEO to improve your organic search results.
One of the obvious demerits of Wix is that it lacks proper customization like the drag-and-drop feature most CMS has.
4. Squarespace

Squarespace is another ideal blogging platform for your content marketing needs. It's suitable if you're looking to show image content. It is also loaded with designer templates and integrations to make your blog content engaging.
After creating your content, you can use Squarespace's blogging and SEO tools to improve its visibility on search results. It also comes with an analytics tool to monitor your website traffic and performance.
One apparent flaw with Squarespace is that it is limited in functionality. That's because the platform supports fewer extensions, limiting you to the only ones Squarespace provides.
5. Weebly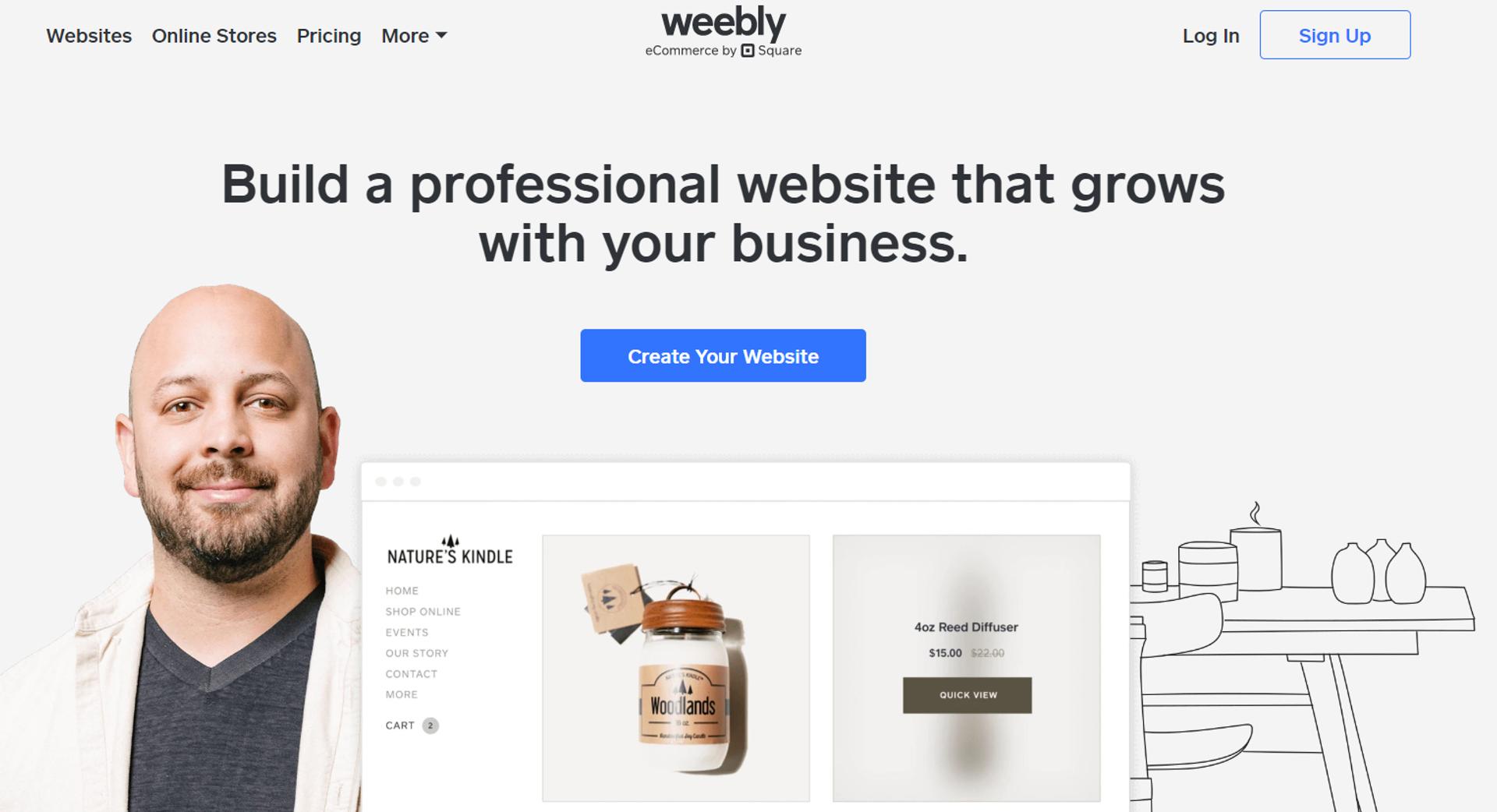 Weebly is yet another popular blogging platform you can utilize for your blogging. It comes with various features, including website-building tools, templates, hosting, and themes.
It fully supports the drag-and-drop functionality, allowing for easier editing of blog posts. You also have the freedom to create different layouts and include web elements in your dashboard. Most specifically, you can add sub-levels to your navigation panels, allowing you to properly organize larger content.
Weebly is also optimized for mobile devices. There's no need to do a separate customization for smartphones. However, the platform lacks flexibility compared to other platforms. You will be unable to edit parts of the source code or carry out drag-and-drop on your content editor.
6. Medium

Medium is a platform created to boost conversations on any topic. Thus, it provides a welcoming environment for people to express themselves creatively. It is no surprise that brands use this platform as part of their marketing strategy.
The platform easily allows third-party embedding for videos, images, and other multimedia content. You can also publish content on a domain or subdomain of Medium.
However, you must only use the hosted Medium site with basic templates. Another flaw is that you have limited control over branding your blog. So, everything seems pretty basic with Medium.
Conclusion
Blogging platforms are essential to every blog's marketing efforts. It is essential to have one in place for your brand. Hopefully, this article has provided you with everything you need to know about blogging platforms and what to look out for when before choosing one.
On a personal note, I would recommend trying Polyblog as it stands out from the rest as it is not only innovative but can be tweaked to achieve massive success for your digital marketing. It is fully equipped with special multilingual features, allowing you to present your blog to different people worldwide.
It also offers fast loading speed, minimalist design, SEO optimization, user-friendly design and customizations, and many more.
What are you waiting for?
Make the bold step to start with a blogging platform today!